R18 Vodka Knockers
New RTD (Ready-To-Drink) tropical quenchers with a kick! Made with real fruit juices to capture the exotic taste that only the Philippines can offer.

* Guyabano:
An untamable mix of vodka and Guyabano in one utterly wild drink.
* Calamansi:
Intense vodka paired with a sweet tangy burst of Calamansi an explosive concoction.

SELLING PROPOSITIONS:

The only Ready-to-Drink (RTD) product made with Philippine tropical fruits.

Intense and flavorful blends that the market truly enjoys. Packed with health benefits, Guyabano has anti-cancer properties and Calamansi is rich in Vitamin C that helps boost the immune system.

New hip and trendy packaging attractive and colorful sleeve with new matching crown design.

More affordable than imported RTDs.


GAZ RTD COCKTAILS
Gaz is the FIRST ready-to-drink cocktail in a daypack in the Philippines.

* Green Appletini
* Strawbery Margarita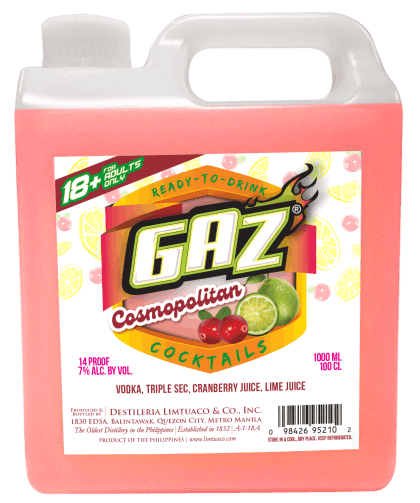 GAZ COSMOPOLITAN IN JERRY CAN
Gaz cosmopolitan in a Jerry Can
GAZ MOJITO IN JERRY CAN
Gaz Mojito In a Jerry Can
GAZ PIÑA COLADA IN JERRY CAN
Gaz Piña Colada in a Jerry Can
GAZ SEX ON THE BEACH IN JERRY CAN
Gaz Sex on the beach in a Jerry Can